Research shows that digital transformation spending globally is forecasted to reach $2.8 trillion by 2025. So, it's no surprise that more businesses adopt new technology to remain competitive, make processes more efficient and grow quicker. But, even though most companies recognize the value of purchasing new technology to develop their business, only 30% of digital transformations succeed. 
Technology adoption describes how a population accepts and uses new technology. In a business context, the process refers to integrating digital technology within an organization. Technology provides a business with an unparalleled opportunity for growth.

Meeting the demands of customers in the digital age is no easy feat. That's why you need an all-inclusive technology adoption strategy.
So, how can you be one of these digital leaders who avoid failure? The key is to put a technology adoption strategy at the center of your transformation roadmap. This article will detail what a technology adoption strategy is and why your company needs one and will provide you with seven steps towards successful technology adoption.
What Is a Technology Adoption Strategy? 
A technology adoption strategy (not to be confused with digital adoption strategy) involves creating a framework to adopt any application seamlessly. This type of plan needs to enhance and account for the employee experience, improve users' productivity, and deliver value to the business. Successful technology adoption will occur when employees can utilize all features of an application. 
But, apart from improving the business and employee experience, a technology adoption strategy has other benefits. 
Integrating technology is a slow process. People take time to adjust to new technology. Consider the progression from early mobile phones to the smartphones of today. It might seem like a rapid shift, but not everyone immediately accepts new technology. That's why some people still use manual flip phones while others buy a new iPhone yearly.
Technology adoption breaks down the phases of acceptance and is categorized into different groups of adopters. 
The first stage of user adoption begins with innovators. These are the people who develop and produce new technology. The second category, early adopters, represents the first group to use the product. Most people fit into the following two groups, the early majority and the late majority. Finally, laggards are the last to adopt new technology.
This model is a great way to understand how employees accept new technology. Digitalizing a workplace has its challenges, so it's crucial to have a strong user adoption strategy. But what is an adoption strategy?
Simply put, a technology adoption strategy is a step-by-step plan to increase user adoption of new technology. This involves training employees, encouraging a digital-friendly culture, and minimizing the disruption caused by new tech.
Organizations have different user adoption goals. They might want to replace legacy software, update existing tech, or digitalize business processes. Companies will struggle to achieve their goals without an all-inclusive user adoption strategy.
Why Your Organization Needs a User Adoption Strategy For Technology
Minimizes Customer Churn and Improves Customer Lifetime Value (CLV)
Customers will stop using your product or service if they do not understand the value they can get from it. But when you train your employees on developing solutions to negative customer sentiment earlier and tailoring the product to a customer so that they realize its total value, you can prevent churn.
Additionally, happier customers will also mean delighted employees as staff are more likely to stay when they understand how to educate customers to keep them satisfied. Then, if your churn rate is lower, your CLV will improve. This is because you will have to spend less time getting new customers as your existing ones will continue to buy more from you.
Accelerates Productivity and Efficiency
Once employees understand how to use all aspects of an application, technology can play a vital role in automating several workflows within various departments such as sales, finance, and marketing. Your user adoption strategy could help your business streamline workflows to eliminate departmental silos, minimize turnaround time and automate simple processes.
Empowers a Company To Focus On More Innovation In The Workplace  
As customer needs continually change, a technology adoption strategy, once implemented, can encourage employees to look at ways in which current systems can be improved so that they can offer more unique products for customers. As well as improving standards, customer satisfaction, and innovation, as a result of technology, you can also enhance business growth in a competitive industry. A new report from Capgemini indicates that digital twin adoption is likely to grow 36% over the next five years as businesses aim to improve sustainability efforts, find unique ways to stay profitable and enhance operational performance. 
Achieve these benefits for your organization by taking note of the following technology adoption best practices.
Follow These Technology Adoption Best Practices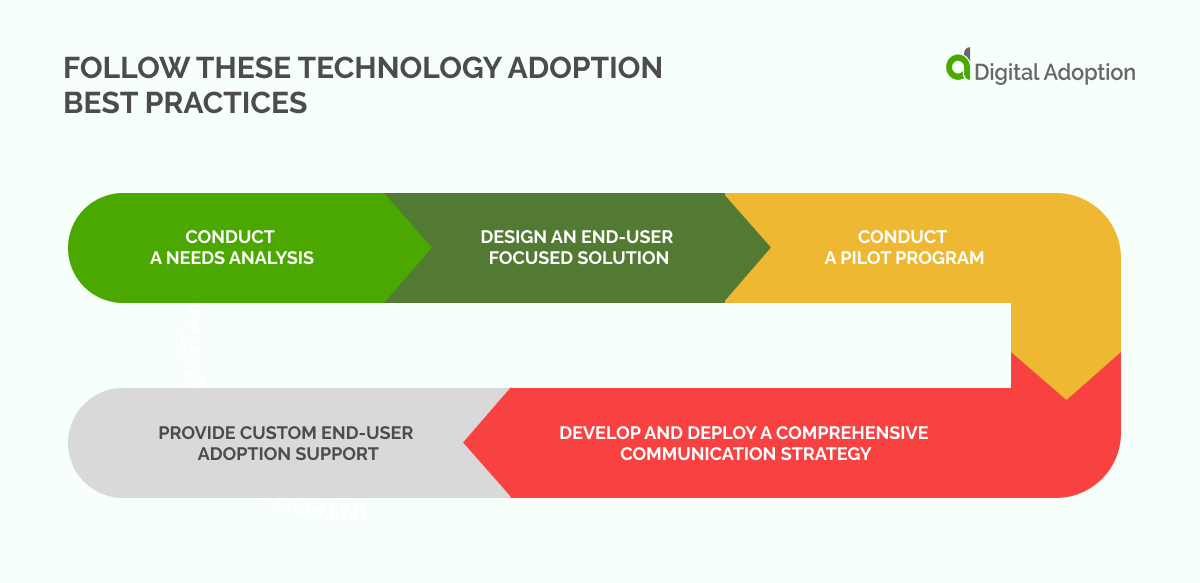 Conduct a Needs Analysis 
To create the right technology adoption strategy for your business, you need to start with an employee needs analysis, which includes observing their day-to-day workload to understand how technology could help with their pain points. A needs analysis can also minimize any resistance to change as you involve employees in a new technological process from the beginning. An analysis session can also help you discover future needs and wishes that your leaders might not have thought of. You could also learn more about the best means of adoption and how your employees would like to know about a new tool. 
Design an End-User Focused Solution 
When you aim to transform your company digitally, you need to involve your employees in these efforts. Although getting an early-buy in from your employees could take longer to achieve, it will ensure that your people are dedicated to adopting technology for the betterment of your organization. Once you identify their needs and match them up with your company's goals, the next stage of your technology adoption strategy could also involve creating user personas. These types of personas can help build a specific user journey so that you can understand the different needs of different employees.
Conduct a Pilot Program 
Before rolling out a technology adoption strategy to the entire organization, recruit early adopters within your business to test out your proposed roadmap, champion any changes and assist in training other employees after the pilot ends. During this process, you can monitor the effect of the proposed technology on the current processes and workflows when your early adopters test it out. 
Then, encourage these test group members to give feedback on this pilot program so that they have an opportunity to offer their opinion on the entire process. This type of feedback means that your technology adoption roadmap can be modified before being implemented across the business. 
Develop and Deploy a Comprehensive Communication Strategy
To ensure the success of your technology adoption, you need to develop an effective communications plan explaining to employees why this change is happening and how it will benefit their job. You could also cover any successes already experienced in the pilot program and then go through a step-by-step guide on how this change will be implemented within the company in the long term. 
This guide could detail any personalized training that employees could expect to receive before, during, and after deployment. It should also clarify that implementing this change is part of a gradual process, meaning that any feedback is welcome so that any issues can be dealt with.      
Provide Custom End-User Adoption Support 
Your technology adoption strategy should use customized training and support to support your employees in their daily work life. For instance, as each user is different, you could opt to design training in multiple formats such as videos, walkthroughs, tooltips, in-app training, PDF, or live online courses.
In addition, you could also organize personalized training depending on the department the user is in or the one they want to work in. This type of process can ensure that employees learn more about the features that are important to them. 
Once you understand the most important facets of technology adoption, increase the likelihood of a successful transformation with some key strategies.     
Strategies to Increase Adoption of New Technology
Develop a Long-Term Tech Strategy
Creating a long-term technology adoption strategy for your organization will save you money in the long run. In addition, it will assist you in sticking to your end goals without getting distracted. To create this long-term roadmap, start with realistic, specific goals that you can measure the progress of and evaluate the success of whenever you want. This type of plan should also have a timely and achievable end to continue motivating yourself and your employees towards it.
Next, it should also help you communicate any changes and developments to employees in advance to prepare them for the company's future direction. As well as including a pilot program, this long-term technology adoption initiative should also give employees time to learn and get used to the changes so they do not feel rushed.   
Plan For Communication and Questions
Communicating any changes related to your technology adoption strategy as soon as you become aware of them will help lower any employee resistance. This type of action will also make your leaders seem transparent, as your employees will feel that they have a voice in your organization. As well as meetings, you can also use emails and video chats as tools to spread important announcements. 
Employees should also be able to ask questions about any communications to eliminate any concerns. To ensure your communications plan's success, you can appoint super-users of this technology in every team who can answer their colleagues' questions and learn about their issues before more comprehensive implementation occurs.
Explain The Benefits Of The Technology
While you may have spent several hours researching a new form of technology and know its many benefits, your employees will not have this knowledge. This lack of knowledge could mean they fail to see the value of using these tools when they work. So, before implementing this new tool, you need to outline how it can benefit the company as a whole and how it could assist employees in a specific team.
The benefits of particular technology adoption could include better cross-team collaboration, more streamlined processes, a quicker deal cycle that improves customer experience, or other enhanced efficiencies. You could also use any data from your pilot program to showcase the capabilities of this new tool and how it can improve your organization's ROI.   
Organize Training and Learning
Adopt a comprehensive training program to make technology adoption easier. Ensure that your technology adoption strategy allows users to get a practical experience using the tool, which delves into training on core capabilities and how employees could navigate it to improve work processes. 
Furthermore, keep in mind that employees need time to get used to new systems, meaning their productivity level might not be as high initially. All employees should also be encouraged to train together to lean on each other for support if they do not understand a particular learning point. Lastly, you also need to provide employees with a set of learning resources after their primary training to improve their knowledge of the tool's capabilities continuously.  
Evaluate Your Adoption's Initial Success
Following the initial round of communications and training concerning new technology, keep track of any issues and any employees who could not embrace this tool at this first step. Then, keep all employees abreast of the plan to resolve any problems and organize further training if needed. 
You could also initiate quarterly one-to-ones with employees who find technology adoption difficult. In this way, you can allow them to shape their learning journey.   
Once you understand the best practices and top strategies for a technology adoption strategy, discover the seven critical steps you need to take to succeed. 
7 Steps to Successful Technology Adoption
Align Technology and Strategy
Adopting a new technology solution can be tempting simply because of the provider's name and the associated price. But, when opting for a new tool for your company, choose one that you know will help you meet your employees' goals and needs. 
For example, does your marketing team need a better analytics tool to get a deeper insight into a customer's needs? Is your customer success team finding it difficult to build a holistic customer profile that helps them solve problems quicker? As soon as your people see that this tool can benefit their objectives, they will adopt it. 
Communicate For Buy-In and Engagement
Before communicating any technology adoption strategy to your stakeholders, ensure you understand the different types of audiences that you need to cater to. For example, some employees might take longer to implement the tool into their processes, requiring a different date to go live with any changes. 
To communicate the right message to a specific team, you need to know how they carry out their work and what processes they follow so that you can explain how technology adoption can be beneficial for their needs.  
Perform a Current Systems Analysis
Before adding new technology to your existing systems, you need to understand whether these new tools can be easily integrated with the old. You could also analyze what your current system lacks and how the new technology could cover these gaps. By conducting this research before adoption, you can prevent a costly setup and system inefficiencies. 
Develop a Training Approach Early
Most technology providers will offer methods of training your staff as part of your purchase. However, this training will not be specific to your team or business process. Fortunately, by planning your training approach earlier, you can incorporate customized training adapted to their needs based on what functions they perform daily. You could also look at what features a particular team or individual needs to allocate training to those who need it.  
Integrate Technology Deployment With Change Management
Have you thought about how you could help your stakeholders adapt to a new tool? Your technology adoption strategy should also include a change management plan that focuses on any concerns related to workflows and processes to reduce resistance and accelerate uptake. 
This type of plan could also involve a change management group that advocates for stakeholders and voices their issues which could alleviate problems in adopting technology. Even more, you could use a digital adoption platform (DAP) to work in conjunction with this new technology as part of this plan so that you can offer employees a personalized learning approach.  
Create an Effective Governance Structure
You need to ensure that all the voices of essential stakeholders and customers impacted by this new technology are considered. You can do this by hiring top leaders who can advocate for those affected. In this way, all employees, whether management executives or customer service team members, can feel they have a say in how this technological change occurs.  
Monitor and Course Correct
You can achieve a successful technology adoption by listening to the opinions of your employees and then adjusting your roadmap in line with their needs. This type of experience can also help you understand what is working well.
For example, you could investigate what users have enjoyed the most about the training and then create similar ways to keep them learning more about the tool. In the long term, you could also measure your return on this digital investment by monitoring what success a particular team has achieved with this tool.   
Your People Can Drive The Success Of Your Technology Adoption Strategy
While technology can enable an organization's growth, your employees will make this goal a reality by utilizing technology to drive innovative experiences. An effective technology adoption strategy will consist of a long-term roadmap that integrates any new tool with the needs of the business and its people. It does this by looking at the current needs of its stakeholders so that it can choose a tool they will find valuable. 
Regular communication is another critical aspect of your strategy as it ensures that your employees can hear about your implementation plans and voice any concerns. Next, focus on training tailored to a particular team or user to increase the chances of technology adoption. Lastly, monitor the implementation of this tool continually so that you can think of better ways to help your employees learn and advance their careers.  
Why Is Technology Adoption Important?
Successful technology adoption is essential to the growth of a business. The benefits of digital technology include:
Improving workflow
Enhancing user experiences
Making business operations more efficient
Companies that value user adoption are better equipped to manage unprecedented change. The past two years have been colored by unprecedented change. The COVID-19 pandemic challenged how we work, and remote work became the new normal.
Working from home wouldn't have been possible without video conference software like Zoom. Only companies ready to adopt this new technology could continue working.
Clear strategies prepare companies to adapt to new technology.  Remember, technology adoption is about technology and people. Reluctant and tech-shy employees stall growth. 
Customized training, good communication, and support from management are the solution. Companies make the mistake of emphasizing the wrong change initiatives. They fail to inspire enthusiasm for new technology in their workforce.
Technology Adoption Examples
Companies in all industries transform to meet the changing demands of consumers. Technology adoption provides a competitive edge in the digital world. Here are two leading examples of companies that implemented a successful adoption strategy. 
Microsoft
Microsoft has dominated the software sales market for years with its Windows operating system. But, they noticed a change in consumer behavior and decided to adapt. 
As customers began using smartphones and tablets, Microsoft extended its reach by making its software more accessible. For example, Microsoft Office became available on tablet devices, allowing users to work without a laptop.
Keller Williams
Keller Williams announced a radical change in 2018. They decided to harness technology to offer an improved real estate service.
Its development began by replacing an old third-party Customer Relationship Management system (CRM). Agents could now offer an improved service on a new customizable platform. This new process added business value for new customers and increased user productivity. 
Since then, they've partnered with companies like Google, Nextdoor, and DocuSign. They also began working on providing virtual tours for customers in the wake of COVID-19.
Technology Adoption Guidelines
So, now you understand what a technology adoption strategy is. But, you may be wondering how to implement a strategy in your organization. Consider this your complete technology adoption guideline.
Align Technology With Strategy
User adoption strategies are more successful when aligned with technology applications. The key is identifying weak areas of your company that new technology can improve.
Companies usually make decisions based on vendors, brand names, and low price points. The irony is that these investments cost more in the long run because they don't tailor to specific tasks. 
Gartner's research shows that 'more than half of B2B technology buyers are pessimists (that is, they regret their technology purchase decisions).' Lousy technology investment is like buying an excellent off-road vehicle when you live in the middle of a city. It's a nice car but probably not the right one for the job. 
You should consider your goals to achieve a positive return on investment (ROI). 
How will introducing new technology help to achieve those goals? Will new software help employees manage workloads? Can new technology automate a previously manual and tedious process? 
Applying technology to specific company operations saves money and streamlines the process. Users also adapt better if they see the benefits of their work. This approach makes the training process more efficient. 
Communicate To Establish Buy-In & Engagement
The first part of this step is identifying your stakeholders. Once you know your key decision-makers, you can determine how new investments will impact them and keep them in the loop. 
You must ask the right questions to engage stakeholders in your user adoption strategy. Why should they care about new technology? How will you tackle potential problems like employee attitudes? Will there be any negative impacts on stakeholders?
Effective communication with stakeholders boosts engagement. User engagement is the key to streamlining your technology adoption strategy.
Perform A Current Systems Analysis
This stage is about assessing compatibility. Will your current systems support new technology? Do systems need updating or replacing entirely? 
Rushing your strategy is incredibly risky. It's crucial to review your current systems to create a needs analysis carefully. If you don't know your current technology capabilities, you can't improve them. 
An upfront needs analysis helps identify problems, reduces the likelihood of redundancies, and leads to a positive ROI. As well as analyzing current systems, you can identify weak user areas to improve training. 
Develop A Training Approach & Utilize DAPs
Training on new software can be confusing and frustrating for inexperienced users. Not everyone learns in the same way. Some users are more tech-savvy and catch on quickly, while others become overwhelmed at the thought of learning a new system. Training should reflect different paces of learning. 
A digital adoption platform (DAP) is software that simplifies user adoption. DAPs integrate with current software and enterprise applications to continually improve training. They help users learn new systems by guiding them through crucial tasks. 
Digital adoption platforms also collect data during training sessions, learning materials, and employee feedback. DAPs then deliver that data to help leaders adjust their strategies.
Incorporate Technology deployment With Change Management 
One of the biggest challenges of technology adoption is employee resistance. Employees, customers, and stakeholders drive user adoption. This is why change management and training are essential. 
Change management is an encompassing term for supporting workers during organizational change. A key part of change management is sufficient and customized training. 
Employees can feel intimidated by new technologies and should feel supported throughout training. This could mean setting achievable goals with realistic user deadlines or providing comprehensive training materials. Incorporating DAPs into training programs will also simplify the practice. 
In the long run, taking time to get training right will increase adoption. Ignoring employee frustration and barrelling ahead despite their concerns will only slow things down. 
Finally, strategies for effecting change need to come from the top. It's not just about supporting employees through training. Employees also require incentives to change. Communicate how technology will make their jobs more efficient, and they'll engage more with training. 
Establish & Maintain An Effective Governance structure
Having a project management team overlooking a company-wide operation is too broad of an approach. Your company's governance structure should involve leaders at every affected level of the organization.
IT teams can implement technology, while lower-level management focuses on training employees. Segmenting leadership roles in your company greatly reduces resistance to user adoption.
Monitor & Review
Versatility should be at the heart of your user adoption strategy. Introducing new technology inevitably disrupts workflow. You have to prepare to manage the concerns of employees during this disruption. 
A flexible approach means listening to the opinions of users and adjusting accordingly. Otherwise, small obstacles will quickly balloon and derail the entire operation.
To get ahead of disruptions, it's a great idea to monitor growth continuously. Implement early methods to measure progress and keep your adoption goals in mind the whole time.
How Does Technology Adoption Relate To Digital Adoption?
You may have come across the term 'digital adoption' before. Technology adoption and digital adoption are similar processes but have slightly different meanings. 
As we've outlined throughout this article, technology adoption is all about implementing technology in the best way possible. The focus is on growing a company using new technology to reach new levels of success. 
Digital adoption is a broader term that includes shaping company culture to accept technology effectively. It's about encouraging an adaptability mindset within an organization. Digital adoption means a company is better prepared to quickly adapt and get the most out of new technology.
In short, a digital adoption solution focuses on changing work processes, customer relationships, and company culture. Technology adoption focuses on integrating technology within an organization. 
The Biggest Challenge of Technology Adoption
You'll encounter several challenges as you move forward with your adoption process. It's important to remember that the process is never-ending. Many organizations forget this and focus too much on an end goal. 
To meet changing business needs, you need to focus on adaptability. Simply put, technology isn't possible without digital adoption. 
Adoption strategies mostly fail because leaders neglect the end user. If technology doesn't serve customers and employees, it isn't working. This is the biggest obstacle to getting the most out of technology investments.