The IT department serves many functions. They keep the lights on, improve internal business operations, and enable every facet of business growth.
With so many jobs to get done, it's intimidating to design an IT infrastructure from scratch.

A well-structured organization serves many purposes. A clear hierarchy improves communication and delegation and makes it easier to see where responsibility lies.
Digital adoption has become an integral part of any business's success. New technologies are introduced constantly, and employees must be trained to use them efficiently. The CIO organizational chart provides a way to ensure that every employee is educated on the new developments and can use them effectively.
Industry-wide digital transformation is at an all-time high, and organizations must be able to adapt to new trends quickly. IT departments must ensure that the organization's IT units are up-to-date and can process new technologies. 
Generally, roles at the top of the hierarchy focus on business strategy, and the job gets more technical the further down the hierarchy you look.
One of the biggest advantages of having structured IT units is that it enables business agility.
It might seem counter-intuitive that having a stricter structure promotes agility, but it's true. With a precise, structured scale, it's easier to make fast decisions and make surgical changes that only affect the business units you want to affect.
In this article, we'll look at insights derived from traditional businesses. We'll talk about how modern organizations structure IT departments, and most importantly, we'll talk about why.
What Influences IT Department Structure?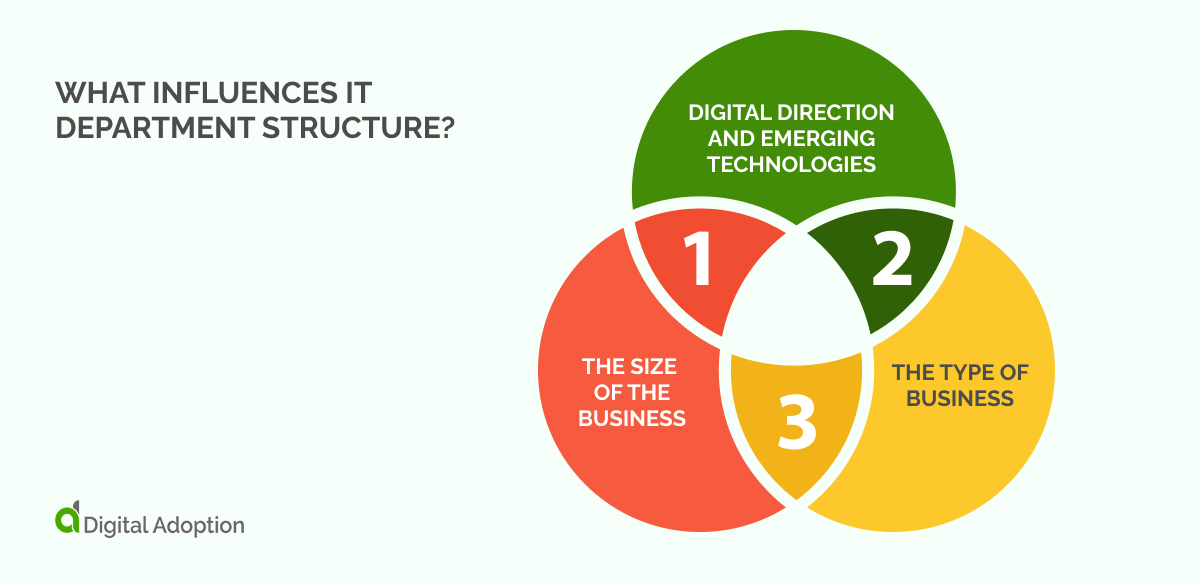 Not all IT departments are created equal – some are larger, some are smaller, and some will have different directives than others.
They're also not static. As a business grows, the capabilities of its IT department change. No one size fits all, and it's a moving target.
That's why it's important to plan for the future of your IT department's structure so that the business has an outfit to grow into.
It helps to understand what factors affect IT department structure so that you can proactively plan yours.
With that in mind, here are a few of the most common and impactful factors that affect the structure of an IT department:
The Size of the Business
In smaller companies, IT leaders will often wear multiple hats. An IT director at a small organization, for instance, may be responsible for a wide range of IT activities, such as IT operations, budgeting, and planning.
Functions that are outside their skillset or don't have the capacity for, they will outsource.
Outsourcing IT functions is expensive, but it can be hassle-free, as you can scale up the service you require as your business grows. Without having to worry about hiring, onboarding, and training internally.
The Type of Business
Technology companies will have different IT needs than companies that rely less on digital tools. Software development firms, for instance, are built around IT, while companies in other industries, such as agriculture, will have much smaller IT departments.
Many businesses make the mistake of using IT for little more than maintenance and upkeep purposes.
While keeping IT systems running is necessary, IT is underutilized if you're not using it to enhance business functions.
Digital Direction and Emerging Technologies
Many enterprises today are heavily invested in digital transformation and digital adoption. Those allocating more resources to digital innovation will have a different IT structure who do and those who will not.
It is also important to note that the structure of IT departments will also depend on how integrated the IT function is with the rest of the organization.
A digitally mature organization, for instance, will have an IT function that is tightly integrated with the rest of the business. On the other hand, a company that is not as digitally mature will likely still have an IT unit that is siloed and viewed as a "back-office" function.
The CIO Organization Chart: How to Structure IT Units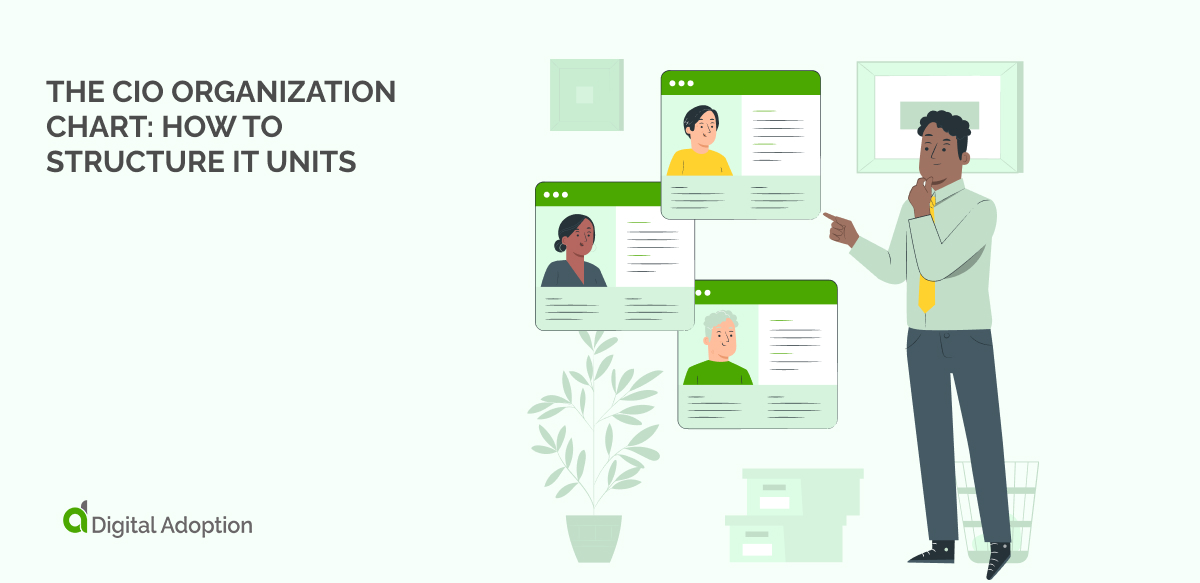 The smaller the organization, the more IT functions it will outsource or not require.
A company of fewer than 100 employees, for instance, may outsource many IT-dependent functions, including:
Cybersecurity
IT support
IT budgeting
IT operations/infrastructure
Risk management
Since every modern business depends on IT, practically all business units will rely on outsourced IT solutions.
However, as a company increases in size, it becomes more cost-efficient to internalize those solutions.
What IT Units Does an Organization Need?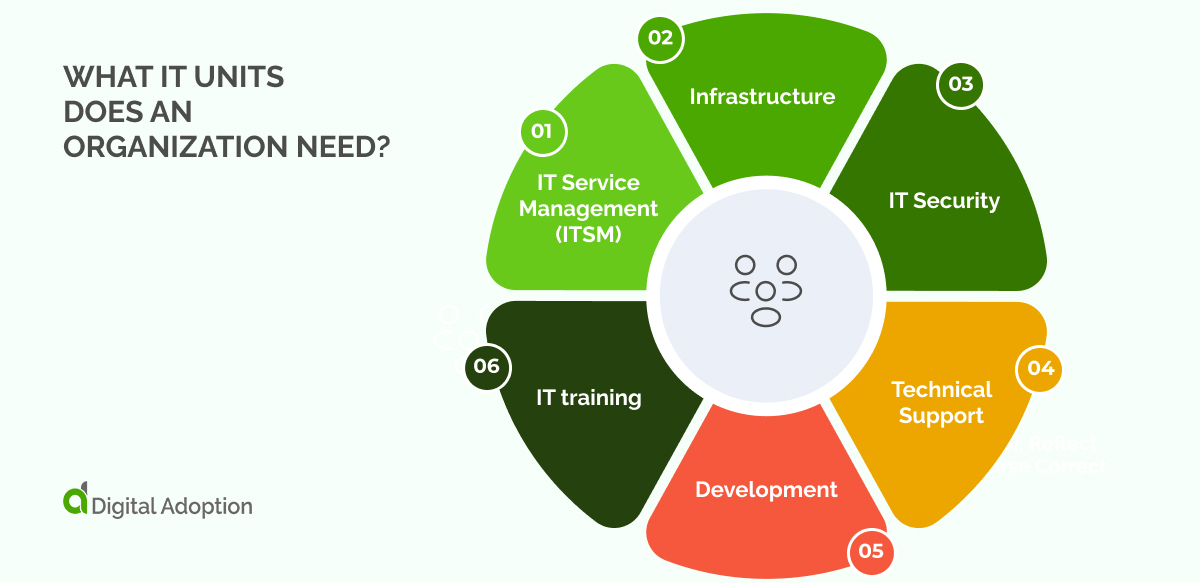 A small business can get away with having "the IT guy" who takes care of computer-related things.
A larger organization cannot. Once the internal IT workload exceeds the capabilities of one person, you need to think about splitting responsibilities— and all the complications that come with that.
Points of demarcation, areas of responsibility, and communication between units.
Once again, the key to minimizing these issues is understanding your IT department structure and building toward it.
Here's an idea of the kinds of IT units most major organizations have and what they use them for:
IT Service Management (ITSM)
ITSM is responsible for maintaining and updating an organization's IT services. It is also focused on responding to incidents and minimizing the impact of disruptions to services.
In some schools of thinking, ITSM encapsulates many of the other IT units. ITSM is more like a set of best practices every IT unit should exercise.
That said, some companies have an ITSM department whose role is to enforce the best ITSM practices across the IT department. They ensure that other IT departments maintain service-level agreements (SLAs) and are responsible for continual service improvement (CSI).
They sit in their unit and report to the CIOs service line.
Infrastructure
IT infrastructure refers to the hardware that a company's IT runs upon. Network and infrastructure administrators will ensure that the company's hardware resources match its computing needs.
That means making sure that a business has the right-sized hardware solutions. Too much, and you're likely wasting money on underutilized resources. Too little and employee productivity suffers.
IT Security
Cybersecurity is a complex, fast-paced field that requires a high degree of expertise. Larger companies will often hire a CISO or a cybersecurity expert, but these experts will usually still work with external cybersecurity firms.
This is because cybersecurity requires seriously cutting-edge techniques to stay ahead of malefactors.
In this sense, the biggest jobs for the IT security department are internal user training and vendor management.
Technical Support
Technical support might be what most people think about when they picture the words "IT department." The incident-response teams solve with computer systems and keep the lights on.
The primary goal of technical support is to resolve user issues quickly and efficiently. The secondary goal is to fix or downright prevent problems proactively.
If a business doesn't feel the impact of its technical support team… well, they're nailing it.
Another angle to look at the same function is in companies that provide IT-related products and services. When customers have questions or problems, the technical support unit will help solve issues.
Development
Technology companies that develop their products will have one or more teams devoted to product research, development, and maintenance.
Like many of these functions, development units are usually split into internal and external.
Internal development units develop technology the business uses to improve internal business functions. A CDO leads these teams.
External development units work on tech that will improve the customer experience or can be directly sold to customers. They're led by a CTO (more info on the difference between a CDO and a CTO later).
IT training
Large enterprises often have complex digital ecosystems that require continual upskilling and reskilling. Training departments may be part of IT, HR, or a separate department. In most cases, investing in a good HRM solution will pay dividends in the long run. 
HRM solutions provide a robust platform for managing employee data, tracking and reporting on training progress, measuring learning outcomes, and providing feedback on employee performance. They also enable organizations to quickly create and deliver custom learning content, manage training budgets, and track compliance requirements with regulations such as GDPR.
IT training units are pivotal in the success of major change initiatives and digital transformation. One of the biggest challenges of significant changes is that employees inherently resist change. Practical training mitigates that.
Though the names may differ from business to business, these are a few of the most common specialties within IT. As mentioned, the larger the organization is, the more necessary it is to separate these functions into separate business units.
IT Leadership Positions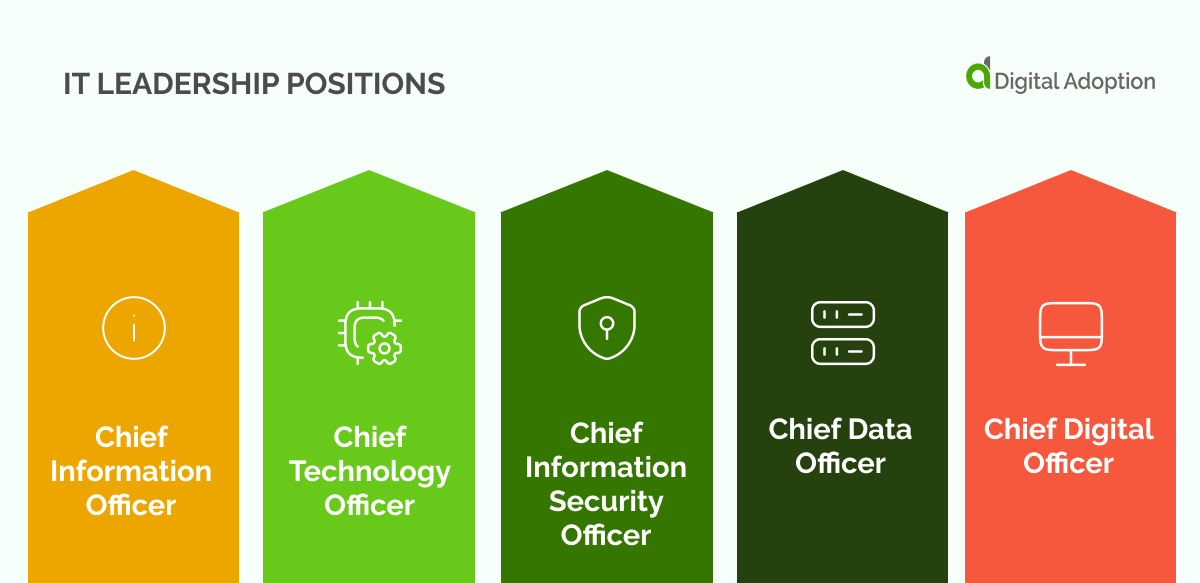 Larger enterprises can consist of hundreds, thousands, or tens of thousands of employees—and in some cases, even more.
As an organization scales, it will need IT leaders that govern each of the specialties mentioned above and are responsible for high-level business administration.
These leaders will need an excellent understanding of business operations and people management skills. They'll also need deep technical knowledge of computer science, project management, data analysis, or another appropriate field of study. A master's degree or similar experience is standard among IT leadership positions.
Together, these leaders help drive business growth.
Here are a few of the most common chief executive roles that you'll find in large organizations:
Chief Information Officer
The Chief Information Officer (CIO) is an organization's most senior IT leader.
The CIO reports directly to the Chief Executive Officer and manages other C-level executives in IT.
In the past, the CIO's job was most concerned with IT service delivery and operations.
Today, Chief Information Officer (CIO) is a role that requires more soft skills than technical skills. They're responsible for using information technology to help achieve the organization's strategic vision.
While the CIO's responsibilities have changed, it's still important for them to have a technical background. Their most used skill is their business acumen.
It's more common for maintaining internal computer systems to fall to an IT Director who reports to the CIO.
Chief Technology Officer
The Chief Technology Officer (CTO) often reports to or works alongside the Chief Information Officer.
Chief Technology Officer is a customer-facing role that aims to use emerging technology to improve a company's offerings. They need to have a good understanding of customer experience and proficiency in business and tech.
Chief Information Security Officer
The Chief Information Security Officer (CISO) is the executive responsible for cybersecurity. They will develop cybersecurity policies, coordinate with external cybersecurity firms, implement security software, and perform other cybersecurity-related tasks.
The CISO is also responsible for training employees in IT security practices.
Humans are the most exploited weakness in cybersecurity attacks, so a successful CISO needs to have the soft skills to ensure that employees are trained to spot social engineering, phishing, and other attacks.
Though the CISO typically reports to the CIO, they might also closely collaborate with or report to a non-IT security department.
Chief Data Officer
The Chief Data Officer (CDO) is the executive in leveraging an organization's data. Data is an asset, and a CDO can utilize that asset to improve virtually any business function.
Big data analytics is one of the most powerful tools a business can tap into. Still, it requires relatively new skills and technologies that many business leaders don't possess.
CDOs usually have at least a bachelor's degree in data science— among other hard skills.
Among the CDO's daily responsibilities is to find ways to collect data, analyze it, and spot business opportunities. CDOs constantly research technology, looking for new and better ways to analyze big data.
For example, it's common for businesses to use artificial intelligence to drive their data analytics.
Compared to other executives, the CDO is an up-and-coming career path. But as emerging technologies enable more robust data analytics, the CDO will become an increasingly important role in any organization.
Chief Digital Officer
CDO can also refer to a Chief Digital Officer, whose role primarily drives digital transformation within an IT organization.
Chief Digital Officers are responsible for developing strategies to improve an organization's operations using digital technologies. Unlike the CTO, a CDO focuses on back-end functions, mainly.
For example, they might leverage technology like artificial intelligence to increase employee productivity.
CDOs help drive innovation in an increasingly digital age.
The positions listed here are a few of the most common IT executive positions, though there are others. For more information about CIOs, IT, and organizational structure, see our article covering the C-suite structure.
Getting the Most Out of Your Computer Systems
Information technology is just one of many tools a business can leverage. But it's such a versatile tool that it requires technological leadership for different IT units— in the form of C-level executives.
A well-structured IT department can increase productivity, improve business performance, and drive digital transformation.
Digital transformation and information technology, in particular, go hand in hand.
The general rule of thumb is that outsourcing what you can is more effective for smaller businesses.
But as a business grows, the benefits of internalizing these functions also grow. When that time comes, it's important to have a plan for how you want your IT structure to grow.
Establishing a C-suite of leaders with specialized skill sets can lead the rest of the business toward stable and consistent growth. Not only this, but they can help you mitigate the risks associated with business growth.
It's much easier to plan and provide guidance than to overhaul an existing hierarchy, so think ahead. Play to your business's strengths and outsource anything you don't have the capacity for.