Enterprise business architecture integrates IT, digital business processes, and security. It helps align the business's current and future operations with entrepreneurial goals. 
The concept of enterprise business architecture refers to a comprehensive and unified framework for connecting a company's strategic, structural, informational, technological, and operational resilience elements.

Enterprise business architecture definitions can vary in emphasis, elements, and entities due to their evolving nature. Despite these differences, the core purpose of enterprise business architecture is to capture the essential aspects of the business in actionable elements and entities. While various definitions of enterprise business architecture exist, they all serve a common purpose.
Determining the most effective approaches to achieve your core objectives quickly is not as straightforward as you might think. Digital transformation initiatives require specialized knowledge and expertise from multiple disciplines to be successful.
Enterprise business architecture is designed to provide decision-makers with an architecture that can support the organization's goals. This is done by identifying, analyzing, and mapping all the business components necessary for managing, integrating, and optimizing the organization's operations.
Assessing numerous variables in your business can be a time-consuming and error-prone task. It is important to have a clear and well-defined system to help you select and implement appropriate methods.
This article serves as an introduction to key concepts of enterprise business architecture. We will discuss the purpose of enterprise business architecture, its components, and how to use it to grow a successful business.
What is enterprise business architecture?
Enterprise business architecture defines what an organization needs to do to stay competitive, satisfy the customers, maintain supplier relationships, overhaul the digital employee experience (DEX), and sustain operations.
When creating the EBA, you identify the core capabilities (e.g., agility and speed) and value streams (e.g., mobile and desktop apps ) needed to achieve strategic objectives.  You also identify the roles, responsibilities, and resources enabling those capabilities and value streams.
EBA also reveals gaps between current and future, addressed through change initiatives. This is done by evaluating and mapping the organization's processes, data sources, platforms, models, and tools against an optimized future state.
Enterprise business architecture examples
There are many different types of enterprise business architecture. Some examples include:
Business Process Architecture: This type of EBA identifies the key business processes that need improvement or maintenance, describes their process flows in detail, and shows how they support the organization's overall objectives.
Information Architecture: This type of EBA defines the data that needs to be collected and stored, identifies how it will be used, and assesses its quality.
Organizational Architecture: This type of EBA maps out the structure of the organization, including its roles, teams, and departments.
Technology Architecture: This type of EBA defines the systems and technologies used to create and maintain the organization's information, processes, and operations.
Enterprise business architecture frameworks
EBA merges business and enterprise architecture frameworks that describe business activities and information flows. They typically include methodologies, software tools, documentation templates, and training programs.
The most popular frameworks are Zachman Framework, TOGAF (The Open Group Architecture Framework), and DYA (Do It Yourself Architecture). Each framework provides a different approach to designing and deploying an enterprise architecture.
Some of the most prominent EBA frameworks include:
The Open Group Architecture Framework (TOGAF) 

The Zachman Framework

Department of Defense Architecture Framework (DoDAF) 

Federal Enterprise Architecture Framework (FEAF) 

Federal Risk and Authorization Management Program (FedRAMP)
What is the panorama 360 enterprise business architecture framework?
The Panorama360 Enterprise Business Architecture Framework lets you see your organization from a 360-degree perspective. It provides a detailed view of the organization's current and future state, helping you identify areas of improvement.
The Panorama360 framework focuses on four key areas: business strategy, digital transformation, customer experience, and operations. It maps out all of the critical activities, processes, and systems within each of these areas.
The framework provides a flexible, adaptable structure that lets you view your enterprise from three critical vantage points:
As an integrated set of capabilities

(Core Capabilities)

As a set of value streams

(Business Processes)

As a set of organizational structures

(Organization Units)
Business architecture vs. enterprise architecture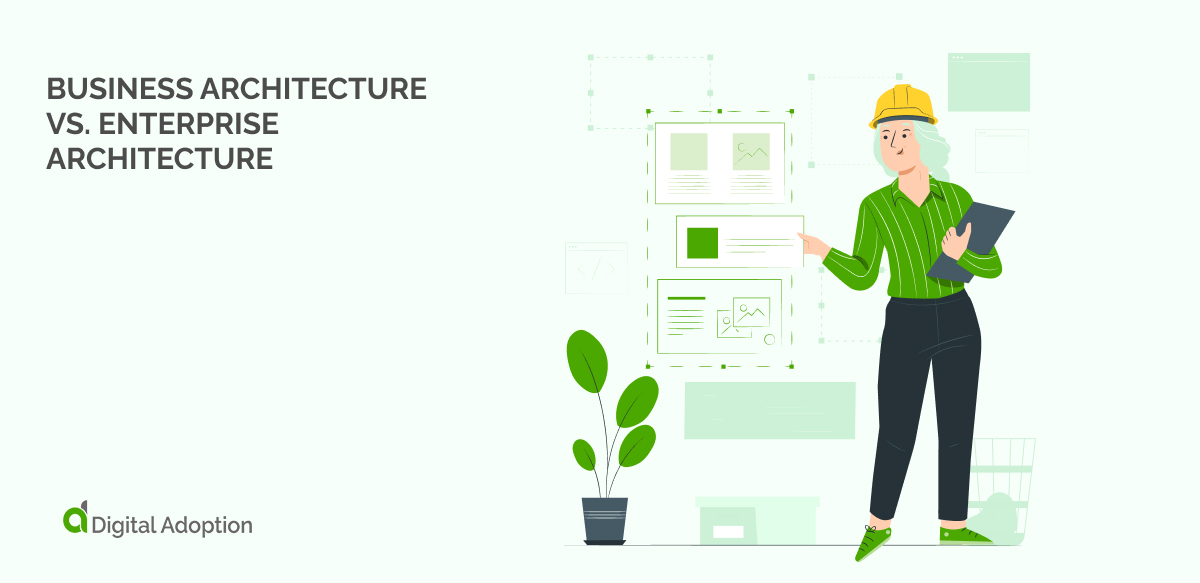 Enterprise architecture (EA) includes IT architecture, while business architecture (BA) does not. 
However, it is worth noting that business architecture is a component of enterprise architecture.
Enterprise architecture
The role of enterprise architects is to determine the necessary elements for implementing business strategies throughout the company, considering the technology, information, and infrastructure perspectives. They ensure that these elements align with the company's objectives and needs.
Business architecture
Business architecture is a part of enterprise architecture that focuses on the structure, strategy, governance, and perspective of an organization's business. It looks at the different parts of an organization and how they relate to each other. Business architects are responsible for designing and implementing the overall business strategy and analyzing and improving existing business processes.
Teams use business architecture to improve essential areas through processes like:
Strategic planning

– They help businesses come up with strategy proposals of top-tier quality. They also facilitate reviewing and approving the strategies.

Benchmarking

– Business architects compare a firm's processes and systems against industry leaders to identify areas that need improvement to boost productivity and efficiency.
What are the Components of Enterprise Business Architecture?
Enterprise Business Architecture comprises value streams, business capability maps, and process models. It also includes the principles, standards, policies, and guidelines that govern an organization's operations.
Let's take a closer look at each:
Value streams
Value streams are steps that an organization follows to effect solutions that offer progressive value to customers.
There are two types of value streams:
Operational value streams

consist of the people and the steps involved in processing the customers' products. An example of an operational stream is the steps followed when fulfilling a customer's order.

Development value streams

are the activities required to convert a business theory into a digital solution. An example of a development stream is developing and deploying a software application.
2. Business capability maps
These are models showing what a business does to reach its objectives. These maps show an enterprise's particular ability that can help it achieve certain outcomes.
An example of such a capability may be proper remuneration of its employees to motivate them to offer their best. 
For a product distribution company, such an ability may be its capacity to ship products to make them readily accessible to the customers.
3. Process models
Process models refer to the various workflows of a business grouped together.
These models allow the visualization of business processes to understand procedures and automation better.
Common types of process models include:
Analytical model

Descriptive model

Domain-specific models
What is enterprise business architecture development?
Enterprise business architecture development is the process of integrating fragmented applications and systems. 
The integration process can be divided into phases, namely:
Determining the baseline architecture

Creating the target architecture

Formulating an architectural transition plan

Implementing the new architecture 
What are the typical deliverables of enterprise business architecture?
Some deliverables are business outcomes (such as a strategic roadmap), and others are internal artifacts that enable the organization to make decisions (such as an enterprise architecture blueprint). 
The typical deliverables of enterprise business architecture include:
Business strategy and roadmap

– to guide the organization in achieving their goals

Business capability maps

– to provide visibility into the capabilities needed to deliver customer value

Process models

– to visualize how activities are related and how they contribute to business success

Enterprise architecture blueprints

– to show the organization's capabilities, processes, and IT systems

Detailed process and data flow diagrams

– to provide a deeper understanding of the organization's operations

Recommendations and best practices

– to enable the organization to maximize its efficiency and effectiveness

Policies and standards

– to ensure compliance with regulations and good practice

Executive dashboards

– to monitor progress and measure the performance of the architecture implementation

Cost-benefit analysis

– to assess the financial impact of any changes or investments in enterprise architecture.
All these deliverables help an organization create a comprehensive enterprise business architecture that meets the needs of the business. This allows them to deliver value for their customers and achieve their goals as efficiently as possible.
What does an enterprise business architect do?
Enterprise business architects help develop new systems by analyzing business processes, recommending improvement solutions, and supporting implementation. 
They help the C-level management define the business strategy and make conscious architectural choices to achieve the strategic vision.
These architects develop operating models and translate the models into business process maps and workflows to achieve strategic goals.
The enterprise business architect works with a team including:
Business architect

Enterprise architect

Organization IT representative

Program manager

Business rep

Change manager
Enterprise business architect job description
An entry-level enterprise business architect should have a minimum of a Bachelor's degree in
Computer Science, Business Management, or any other related field.
To qualify, applicants must have five or more years of relevant work experience and be proficient in business and IT.
Key responsibilities of an enterprise business architect include:
Analyzing a company's enterprise architecture and identifying areas that need improvement.

Defining and guiding the course of enterprise business architecture

Aligning architectural strategy with technology goals

Working closely with other architects in an organization

Enabling organizational change

Bridging Business and IT
Enterprise business architect salary
The level of experience and the general industry compensation factors all play a part in determining the wages of a business architect.
An individual's competence and the value they bring to the company hugely dictate their salary levels, with the senior architects earning up to six figures.
For example, according to ziprecruiter.com, the average annual salary of an enterprise business architect is $124,290, with the most experienced architects earning up to $240,500 per annum.
Is there an enterprise business architecture certification?
GlobalKnowledge offers Enterprise Business Architecture certificates on two levels:
To earn the certificate, you must score at least 70% and complete five courses within two years. 
These five courses include:
Introduction to Enterprise Architecture for the public sector 

Introduction to Business Architecture for the public sector 

Modeling Public Sector Programs and Services

Aligning Public Sector Business and IT strategies

Data Modelling or another core course
What's Next For Enterprise Business Architecture?
Enterprise Business Architecture (EBA) is relatively new, but its importance has grown significantly over the past few years. As businesses become more complex and technology changes, it's becoming increasingly important for organizations to have an EBA in place that can help them develop and implement effective and efficient strategies.
In the future, we'll see an increased focus on enterprise business architecture as organizations look to maximize the efficiency of their operations and create a unified platform from which to operate. This shift towards Enterprise Business Architecture also changes how IT organizations are structured and operated, as it places more emphasis on strategy than technical abilities.
We'll likely see an increase in certification programs designed to help enterprise business architects stay up-to-date with the ever-changing landscape of business architecture. With more certified professionals, businesses can ensure that their enterprise architecture meets the industry's best practices.
In the long term, Enterprise Business Architecture will continue to play a major role in helping organizations build and maintain their competitive advantage. As businesses become more digitally connected and reliant on technology, an effective EBA will help them remain agile and adaptable to changing market conditions.