This article will explain what a CRO is, an acronym for Clinical Research Organization or Contract Research Organization. Anyone involved in healthcare-related industries will have some experience working with these outsourcing companies that deal in clinical trials.
After all, medical outsourcing is a huge industry. A 2022 Fortune report predicted that the industry will be US$90 Billion by 2026. Companies across the pharmaceutical industry seek to reduce costs and improve outcomes, making it more critical than ever to consider the most efficient way to conduct clinical trials.

The healthcare industry is on a mass digital adoption spree, and outsourcing clinical trials has become a viable option with the assistance of new technology such as blockchain, AI, and cloud storage. These new technologies have allowed companies to reduce costs and increase efficiency in their clinical trials by streamlining processes and creating a secure platform for data exchange.
However, choosing a CRO can be a complex process. This article will explain what a CRO is, how they can support major companies and the criteria for selecting the right CRO.
What Is A Contract Research Organization (CRO)?
A CRO is an organization that undertakes short-term contracts in research and development across the life sciences industries. CROs are especially valuable in medical sectors, including pharmaceutical companies, biotechnology, and medical technology.
They support efficiency by staying up-to-date in all aspects of R&D. The contracting company does not need to maintain their research experts or provide the infrastructure for them to work.
The acronym CRO usually refers to a "contract research organization," but this is synonymous with "clinical research organization."
Contract research organizations choose to specialize their services in different ways. Some will provide services to one particular niche or industry. Others may specialize in a specific kind of medical research.
How a Clinical Research Organization Can Support the Clinical Trial Process
Clinical trials are complicated, expensive, and time-consuming. Even the largest pharmaceutical company won't always have the research and development capacity to complete successful trials internally.
A contract research organization can support companies by taking charge of all trial-related duties. In doing so, CROs ensure oversight of the quality assurance process in a cost-effective way.
A successful trial relies on a tight network of specialist medical staff, reliable participants, and regulatory knowledge and involves manufacturers, sponsors, and moral authorities. Moreover, valuable trial data depends on outstanding quality at every step of the process.
Companies dealing with drug development, medical devices, or biotechnology require extensive clinical trials to guarantee that their products are thoroughly tested and ready to market. CROs efficiently provide the peace of mind that only comes with thorough research and documentation.
In an increasingly digital world, communications between CROs and their sponsors often benefit from digital transformation. On the consumer side of healthcare, digital adoption has been shown to improve customer experiences. Digital adoption solutions can likewise integrate companies seamlessly.
What Are The Benefits Of CROs?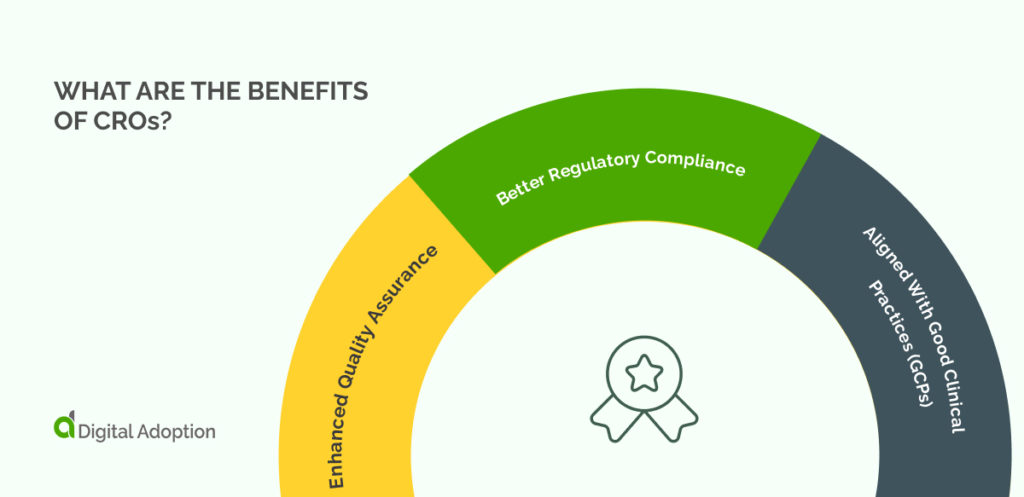 Many benefits of business process outsourcing medical trials are similar to other kinds of outsourcing. A CRO helps a company to access specialized staff, manage financial constraints, and tailor solutions that match their needs.
However, the specific demands of trial logistics mean that there are some more specific benefits of contracting with a CRO:
Enhanced Quality Assurance
The CRO looks after a vast range of assurance responsibilities that lead to a consistently high trial quality.
A CRO has the right research staff, innovation knowledge, and physical capabilities to conduct an excellent trial from start to finish. From clinical monitoring and site selection to medical writing, the CRO does vital work in ensuring trial quality.
Better Regulatory Compliance
Regulatory authorities of all sizes govern clinical trials with non-negotiable policies and legally binding rules. Many organizations would struggle to keep up with the most relevant compliance issues. However, the specific regulatory requirements in an industry are a fundamental part of the CRO's work.
Aligned With Good Clinical Practices (GCPs)
The UK government explains that Good Clinical Practice is "a set of internationally-recognized ethical and scientific quality requirements that must be followed when designing, conducting, recording and reporting clinical trials that involve people."
These requirements place a necessary burden on trial sites to report problems and accept inspections. In other words, maintaining a trial center is much more than allocating the right office space for the job. CROs do a lot of work to keep their centers ready for inspections at all times.
What Clinical Trial Management Services Do CROs Offer?
A CRO can support all stages of the planning, execution, and review of a clinical trial. A business leader can hand over all of the sponsor's trial-related duties to the CRO if necessary.
However, many CROS can support sponsors with just one or more aspects of functions carried out in the trial process. Some of the typical CRO services that businesses can use include the following.
Clinical Study Design
The design stage is the moment for the CRO to find a solution that meets the sponsor's needs. They will advise on the best type of approach, the type of participants, the budget, and the schedule.
Success Metrics
The planning team at a CRO will be able to advise on the most reliable measures of success. This is an excellent stage for dialogue between the sponsoring organization and the contract research organization itself.
Protocol Assistance
CROs deal with the details of trial protocols every day of the week. They are best placed to rigorously monitor documentation around ethics and regulatory affairs, ensuring that national and international standards are kept.