A robust and flexible enterprise business architecture framework is crucial to ensuring an organization's processes, IT infrastructure, and strategies align with its core objectives.
The Open Group Architecture Framework (TOGAF) certification stands as a beacon in this domain, widely recognized for its comprehensive approach to enterprise architecture.

TOGAF certification equips professionals with the knowledge and understanding to design, implement, and manage an enterprise architecture that is scalable, reliable, and efficient. This globally acknowledged certification is often sought after by architects and strategists who wish to validate their proficiency in using a high-level approach to design.
Being TOGAF certified implies that you possess the skills to ensure that different business units within an organization work seamlessly together. It enhances your ability to manage and optimize business processes, minimizes inefficiencies, and aligns business and IT sectors effectively.
The TOGAF certification, therefore, is not just an addition to your resume but a testament to your competence in harnessing the power of architectural principles and concepts for achieving business goals.
As more businesses recognize the value of well-structured enterprise architecture, the demand for TOGAF-certified professionals continues to rise, making it a valuable asset for anyone looking to advance their career in this field.
This article will provide you with all the information that you need to know about TOGAF certification and its advantages.
What is The Open Group Architecture Framework (TOGAF)?
The Open Group Architecture Framework (TOGAF) is an enterprise-level architecture framework developed by The Open Group, a global consortium promoting open standards and IT collaboration.
It has become the de facto industry standard for enterprise architecture, providing a comprehensive approach to designing, implementing, and managing architectures that align with an organization's core objectives.
TOGAF is built on the idea of developing a unified architecture that allows different business units within an organization to work together seamlessly. The framework provides architects and strategists with guidelines and processes they need to develop frameworks that can be scaled and adjusted to meet the changing needs of the organization.
Benefits of TOGAF Certification
The TOGAF certification offers a multitude of benefits for aspiring IT architects, some of which include:
Career Advancement

: With the growing need for effective enterprise architecture in businesses across various industries, TOGAF-certified professionals are in high demand. This certification can significantly enhance your career prospects and open doors to lucrative job roles in top-tier companies.

Increased Earning Potential

: According to Payscale, TOGAF-certified professionals earn considerably more compared to their non-certified counterparts. This certification not only validates your skills but also demonstrates your commitment to personal development, making you a valuable asset to potential employers.

Broadened Knowledge and Skills

: The TOGAF certification provides an in-depth understanding of enterprise architecture and its practical applications. It equips you with the skills to design, implement, and manage an efficient business architecture, thus enabling you to contribute effectively to your organization's strategic objectives.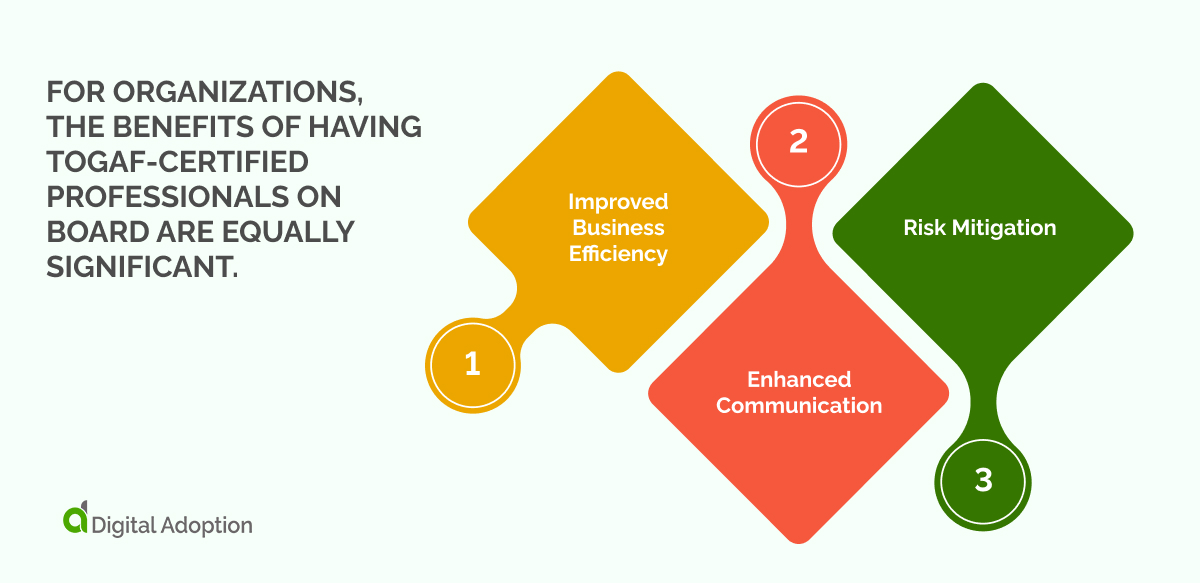 For organizations, the benefits of having TOGAF-certified professionals on board are equally significant.
Improved Business Efficiency

: TOGAF-certified professionals are adept at aligning IT with business goals, leading to improved efficiency and productivity. They can help identify areas of redundancy and streamline processes, resulting in cost savings and better use of resources.

Enhanced Communication

: The TOGAF framework promotes a common vocabulary and set of standards for enterprise architecture, which fosters better communication and collaboration within the organization. It helps break down silos between different departments, facilitating a more integrated approach toward achieving business objectives.

Risk Mitigation

: By providing a systematic approach to enterprise architecture, TOGAF helps in identifying potential risks and developing strategies to mitigate them. This can significantly reduce the chances of project failures and ensure smoother implementation of business strategies.
Now that you have a better understanding of the benefits of TOGAF certification let's look at how you can acquire this certification.
How to Get TOGAF Certified In Six Steps
The process for getting certified in TOGAF is relatively straightforward. To become a TOGAF-certified professional, you must first complete the two-part TOGAF Certification Program.
Gaining this qualification can significantly enhance your career prospects in the IT industry. Here's an overview of the process to become TOGAF qualified.
Step 1: Understand the Basics
Understanding the basics of TOGAF involves familiarizing yourself with its principles, methodology, and the benefits it offers to businesses. As an enterprise architecture framework, TOGAF assists organizations in designing an IT infrastructure that aligns with their business goals.
This foundational knowledge will help you appreciate the need for TOGAF-certified professionals in the industry.
Step 2: Choose the Right Level of Certification
Choosing the right level of certification depends on your current knowledge level and career ambitions. The Foundation (Level 1) certification is perfect for beginners or those seeking to understand the basics of TOGAF. It covers terminology, structure, and basic concepts of TOGAF.
The Certified (Level 2) certification is more advanced and delves into the practical application of TOGAF in business environments. You can take these exams separately or combine them based on your comfort level and understanding of the subject.
Step 3: Enroll in a Training Course
Enrolling in a TOGAF training course can significantly improve your chances of passing the exam. These courses are designed to cover all aspects of the TOGAF Body of Knowledge.
They typically include lectures, interactive sessions, case studies, and mock tests, providing a comprehensive learning experience. You can choose between online self-paced courses or classroom-based training based on your schedule and learning preference.
Step 4: Self-Study
Self-study is a crucial part of your TOGAF certification journey. It allows you to delve deeper into topics you find challenging and reinforces what you've learned in your training course.
Utilize the study materials provided by The Open Group, such as the TOGAF Study Guide and Practice Test. Regularly reviewing these materials will help solidify your understanding of TOGAF.
Step 5: Register and Take the Exam
When you're ready, register for the TOGAF exam through The Open Group's website. The exam is a multiple-choice test taken in a controlled environment.
For the Foundation exam, you'll answer 40 questions in 60 minutes, while the Certified exam consists of 8 complex scenario questions in 90 minutes. Achieving a score of at least 55% on each exam is necessary to pass.
Step 6: Maintain Your Certification
After achieving your TOGAF certification, staying updated with the latest developments in enterprise architecture and TOGAF is important.
Participate in webinars, read white papers, and engage in other professional development activities The Open Group offers. This continuous learning will keep your skills sharp and enhance your value as a TOGAF-certified professional.
Now that we've gone over the process of becoming TOGAF certified, let's look at some available resources to help you on your journey.
Resources for TOGAF Certification
To make the certification process as smooth as possible, The Open Group provides numerous study materials and other helpful resources:
The TOGAF Standard:

A reference guide for understanding the complete framework and its principles.

eLearning Courses:

Self-paced courses to help you prepare for the exams.

Study Guides:

These are comprehensive guides covering all aspects of TOGAF in an easy-to-understand format.

Practice Tests:

The Open Group provides practice tests with questions similar to those asked in the actual exam.

Webinars:

An excellent way to stay current with new developments in the TOGAF framework.
These are just some of the many resources available for achieving TOGAF certification. A healthy amount of research and dedication will go a long way in ensuring success.
I've got my TOGAF certification: What next?
Once you have acquired your TOGAF certification, there are many opportunities available to apply it in the real world. With the increasing demand for certified professionals, an experienced TOGAF-certified architect can become a valuable asset for any organization.
Some of the job roles that require a TOGAF-certified professional include Enterprise Architect, IT Architect, Application Architect, and Solution Architect. Even if you're already employed as an IT professional, your TOGAF certification can give you a competitive edge when it comes to promotions or salary hikes.
Besides job roles, TOGAF certification is invaluable for businesses in terms of obtaining cost-effective solutions and achieving better alignment between their IT infrastructure and business goals. An experienced architect can create architectures that are flexible and easy to maintain, thus driving organizations toward success.